Welcomes
LE PIANE
with owner-winemaker Christoph Kuenzli
of Boca, Piemonte, Italy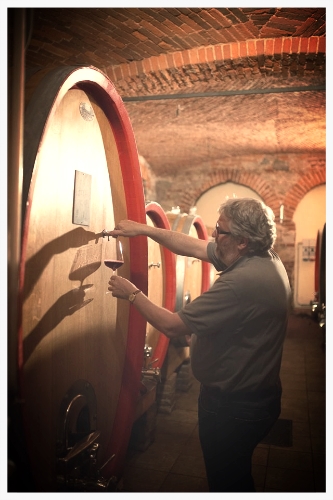 Barolo, so the sayings go, is both "wine of the kings" and "king of the wines." Every oenophile will sing its praises. It is made from Nebbiolo, the grape that won over the hearts of royals, and has come to find its own place in mine.
Hang out with me long enough, and you'll learn of my true passion for this varietal. Perhaps you've heard my stories of hunting for white truffles in Barolo with Chef David Falk. This is when my romance with the noble grape blossomed, and it only continues as I try to taste every Nebbiolo under the sun.
Like all great loves, Nebbiolo is both beautiful and incredibly challenging. It is one-of-a-kind, with perfumes and flavors unlike any other grape in the world. It becomes a grape of nostalgia; with scents of roses, violets, saddle leather, delicate Nebbiolo takes me back to my grandmother's house. But without proper aging or the design to be consumed young, there is also stubborn Nebbiolo, full of insane tannins that can send you running to the sink to gulp water out of the faucet.
Traditionally, Nebbiolo needs time. I have a hard time keeping a bottle at home for a month, let alone the ten plus years these wines require in cellar. I will try to let my patience persist with my studies. During all of my late-night reads, at each tasting I attend, I am looking for the new kid on the block, the underground rockstar ready for the limelight.
This is where the Alto Piemonte wines come in. Nebbiolo gained its celebrity in Southern Piemonte, in Barolo and Barbaresco. However, the regions up north, around Lake Como, are where Nebbiolo really put its roots down. Boca, Lessona and Gattinara have more acres of Nebbiolo planted than do the famous regions to the south. These underdog Nebbiolo vineyards are higher in elevation, above the fog line famous around Barolo. In this sunlight, the grapes spend two weeks longer on the vine, allowing their tannins to soften further.
This ripening results in more delicate, more perfumed wines that can be enjoyed younger (!), like those from Le Piane, located in the foothills of the Alps, one of the most beautiful growing regions in the world. In 1988, winemaker Christoph Kuenzli became acquainted with the Boca DOC, and met the 80+year-old farmer/winemaker Antonio Cerri. Over the years, Christoph slowly convinced Antonio to teach the traditions of producing Spanna, as Nebbiolo is called in the region. Armed with these secrets, Christoph began his replanting, and is one of many humble farmers spreading passion and revitalization across northern Piemonte to restore the old vineyards and bring the fame back to one of the great mountain wine regions in the world.
I invite you to join me in celebration and honor of Christoph and the fruit of his labor, at a dinner fit for kings where you can make Nebbiolo memories of your own.
FEBRUARY 11th
Limited Seats (14 Total)
BOCA RESTAURANT
- Private Dining Room -
7:00 pm
5 COURSES / 5 ROCKSTAR WINES
125 per person + tax & gratuity (total 158.75)
ALL RESERVATIONS
MUST BE MADE THROUGH
HART & CRU
NOT THROUGH BOCA RESTAURANT RESERVATIONIST